If Tokyo Design Week takes place and you're not there, does it really take place?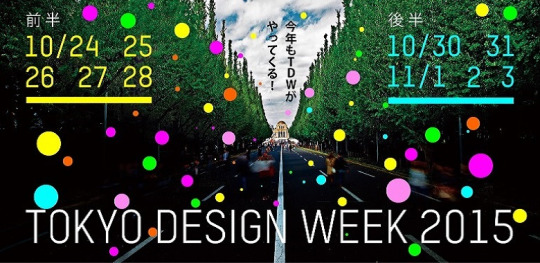 Apologies for the ridiculous statement, but as this year's edition of Tokyo Design Week kicks off, it indeed feels incredibly strange to see it happen from afar. Even though in recent years I'd grown a bit disillusioned with a lot of what I'd see on display, there's no denying that it consistently played a huge part within the evolution of what I did while based in Tokyo.
I got my start by blogging about art and design in Japan (more specifically, Tokyo) and I can indeed recall attending Tokyo Design Week (or rather the collection of design-related events that took place at that time, not specifically under that banner) during my first few years in Tokyo, and how it contributed to my enthusiasm for Japanese design.
Later, as I started carving a path in writing professionally about design – first for a now-defunct site called Tokyo Q, and then for The Japan Times through my monthly "On Design" column – I'm fairly certain that Tokyo Design Week (or more specifically at the time, "Tokyo Designers Week") was the first major event for which I had a press pass to cover.
It didn't take long before my desire to place myself more closely inside this scene had me collaborating with my good friend Jesper Larsson on showcases/exhibitions for Swedish design, that were part of the Swedish Style events that used to take place during TDW. It was incredibly exciting and satisfying to play a direct role in helping designers to take part in the week-long design festivities, and it also led to some fantastic connections with all manner of creative people. And who could forget those fantastic parties at the Swedish Embassy during TDW – always the best.
The last phase of my relationship with Tokyo Design Week was the most direct one, and it involved the annual PechaKucha Night that we produced for them in the big dome, which would end up being the biggest event of the week. It still doesn't feel natural to see posts about this week's PechaKucha Night at TDW, and not being the one who has to make sure that we have all of the presentations from our presenters, that all the tech is in place for the night itself…
So yeah, this time of the year coming around without a Tokyo Design Week to take in or to take part in is a bigger shock than I expected.