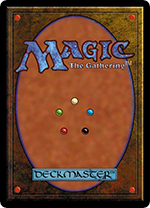 "Game Boy" is a weekly column in which I write about being a game developer working in Montreal. You'll find them all under this category, and it starts here.
I don't think I've ever played as much Magic: The Gathering as I do since working at game studios.
It's no secret that I love board and card games, and in terms of Magic, it's a game that I've been playing on and off pretty much since the start — the game debuted in 1993, and I believe I started playing in 1994, around the time the Fallen Empires set came out. I absolutely fell in love with the game then, and played pretty consistently from that point, even continuing in Tokyo when I moved there in 1998. I just went to a random game shop, saw a bunch of young kids playing, and came again with my cards and started playing with them. I could barely speak any Japanese, and they couldn't speak any English, but we managed to play games and have fun.
After a while I did sort of stop playing, and it took quite a few years before I learned about a casual weekly league that was happening at a Shakey's pizza restaurant in Takadanobaba. I decided to go on a whim, and not only did I turn into a regular — and got interested in the "limited" format, where you make a deck out of a limited number of packs, and play with that, which is pretty much the only format I enjoy playing to this day — but I also made some good friends which led to fun game nights outside of the league, and beyond Magic (other card games and board games).
That league eventually died down and I stopped going, and so I again stopped playing for a while until I convinced a few friends to play in league-like sessions, and we did so infrequently during my last few years in Japan.
And then came the time to move back to Canada, and so I sold all of my Magic cards. All of them.
Forward to me working at the Square Enix Montreal studio, and discovering that one of my colleagues also enjoyed playing Magic, and that he was playing in a league — that league was mostly held in the Eidos Montreal studio, but I'd build myself a limited deck, and we would play a few games every Friday end-of-day over beers.
Again, after I moved to Ubisoft, I stopped playing for a while, but then last summer I started getting the itch again to play, and so decided to start a league within my team. I ended up easily convincing quite a few people who had never played the game, and a few who hadn't played in a decade or more, to join up, and we've been going strong ever since. Just this week week we started our 5th season — we make a season last about a month, and we've made them coincide with the release of new sets, and so have played with cards from Amonkhet, Hour of Devastation, Ixalan, and now Rivals of Ixalan.  Even better, we moved to a new building last week to be closer to the rest of our merged teams (my original team of 50-60 people is now part of group that numbers close to 250), and when I sent out an invite to everyone to join us in our Magic fun, I was able to add an extra ten people.
I'm sometimes surprised at how Magic has managed to sustain my interest for pretty much half of my life, and even more shocking is that I have just as much fun playing it now (maybe even more) as I did back when I first started close to 25 years ago.