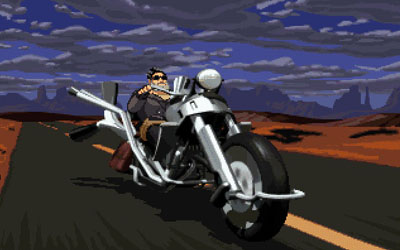 After listening to an interview with Tim Schafer in a recent episode of the 1UP FM podcast, and then seeing this post over at Rock, Paper, Shotgun, I decided it was time to play the classic LucasArts adventure game Full Throttle again. First released in 1995, I remember playing it, but don't think I ever actually finished it. So this past weekend I loaded it up on the ScummVM emulator, and played 4-5 hours straight through to the end on Sunday afternoon.
I have to say I had an absolute blast playing it. Sure, the arcade sequences are annoying, but you can skip through most of them by hitting SHIFT-V on your keyboard. (Note: this doesn't work for two of the bikers in that particular sequence, but once you've got the chain and wood plank, it becomes easy.) I did use a FAQ to get through a few of the puzzles if I was spending too much time on it. Anyone play this recently? And if so, any thoughts?
Since I had some much fun playing it, I've now started playing The Secret of Monkey Island, and plan on going through the entire series. I'll put up separate pages for those games.