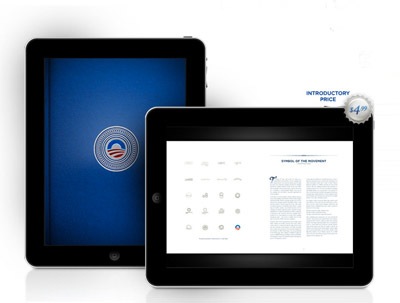 Good news for those of us who can't afford the beautiful — but $80 — Designing Obama book by Scott Thomas, which covers how design was brilliantly used during the Obama campaign (Thomas was the campaign's design director). The project was funded through Kickstarter earlier this year, and with the print version now shipping, we also get an iPad version, priced at $5 — note that it's listed as an "introductory price."
The app is bare bones — it's pretty much a PDF viewer — but the pages are beautifully rendered, and very readable when you zoom in (the only annoyance is that each page takes a second or two to load up). I haven't finished reading it yet, but I'm absolutely loving it so far, and you can't pass it up at that price.
It does feel like creating cheap iPad app versions of beautiful — and expensive — books is a great way of not only selling people on the real thing (try before you buy), but also lets everyone enjoy the book, even if they can't afford the pricier option.