On this Lunar New Year's Day, I'm very happy to share that we've welcomed in a new family member. Please say hello to Lupin III, or Lupin for short (which I pronounce the Japanese way as "rupan").
Lupin was rescued in mid-December in nearby Hangzhou after being hit by a car and not being able to walk. As he was then blocking traffic, a nearby security guard who knew of someone who supports an animal rescue organization contacted him, and he was able to save Lupin by coming to get him and bringing him to a vet. He was there for about two weeks, and was eventually able to walk again (it was apparently a spine-related injury).
My wife was looking at a rescue animal site, and came across a photo of him, and decided to contact the person who was temporarily watching him (the person who rescued him). After discussing things for a week, we decided to give it a try for 2-3 weeks, and so the person drove him over to our place in Shanghai (on January 6), and he's been with us since.
And we made the decision to permanently adopt him.
He appears to be a Golden Retriever — blonde like the English type (like I've had in the past), rather than the reddish/brown of the American type — and according to the vet he's probably around 1 years old, although we think he's younger, maybe more around 9-11 months, as he's still on the small side, but that could be because he's just on the smaller side, or that he's a mix. The fact that a good part of his body is shaved due to treatment after the accident (he was very dirty as well) makes it hard to guess as well.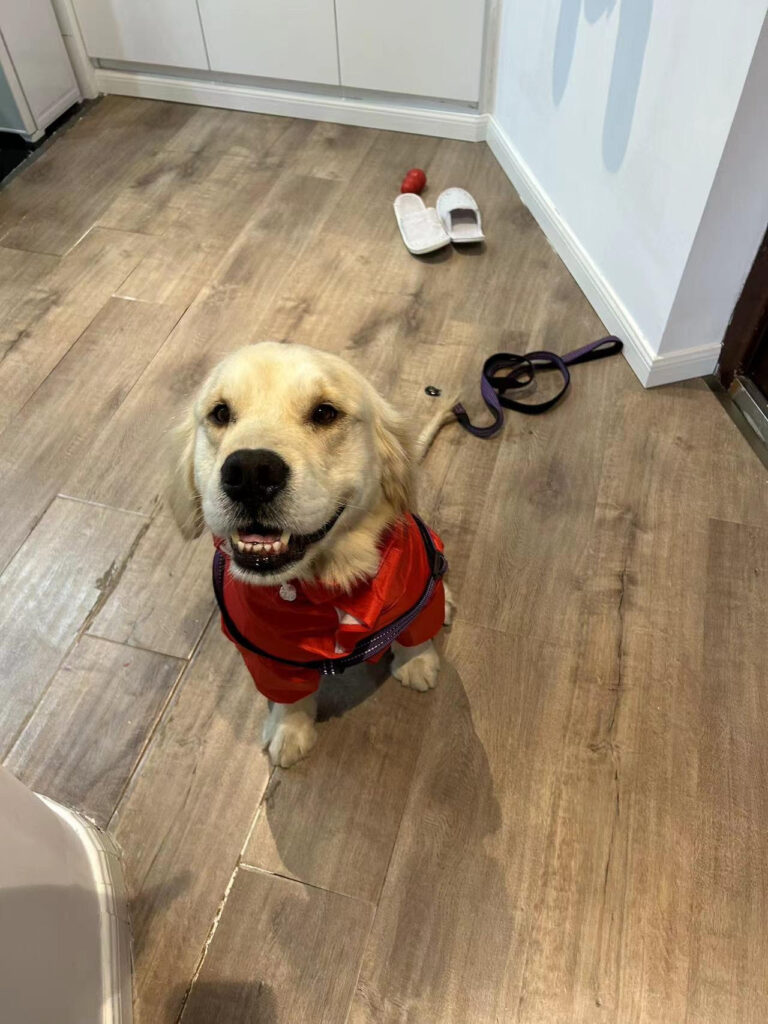 He's incredibly loving, and seems to be very happy to be with us, and we love him very much as well. We of course don't know what kind of life he had before the accident (the rescuer did post messages on various sites to try and see if he had an owner who had lost him, but never got any responses), but we're happy to now welcome him in our family.
Oh, and yes, he's named after one of my favorite anime characters, Lupin III, the grandson of Arsène Lupin.