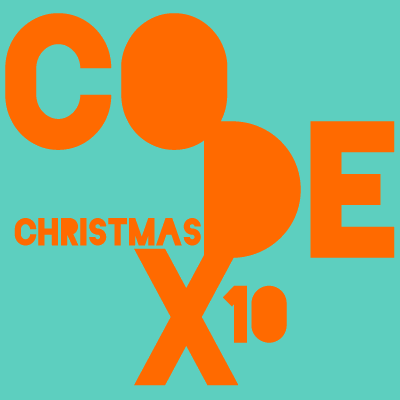 As I mentioned yesterday when I posted episode 9 of the Codex, it's only after I was done that I thought it would be a good idea to do a Christmas episode, and I wanted to get it done as soon as possible. Here we are then, an extra-sized holiday episode with 20 yuletide tunes that I hope make for a Christmas soundtrack that's a bit different from what you tend to hear everywhere.
As I said on the show, a lot of the tracks were found thanks to a great holiday music round-up post on Pitchfork. Here are also links to some of the compilations I mentioned, that you can download for free: The Christmas Gig, Ho! Ho! Ho! Canada Deux, and A Familyre Christmas Volume 3. Also, you can still download the Christmas episode of Radio OK Fred (15) we did last year (me, along with my co-hosts Yoshi and Ay2).
You'll find the link to download the episode below, along with the complete playlist, and you can subscribe to an RSS feed so as not to miss any future episode. The show is on the iTunes Store too.
Codex 10 (61.8MB)
1. James Kochalka Superstar – "Christmas in Dimension X"
2. Pine*AM – "Snow! Snow!"
3. Blazer Force – "Electronic Santa"
4. Sufjan Stevens – "Put the Lights on the Tree"
5. Low – "Taking Down the Tree"
6. Bishop Allen – "You'll Never Find My Christmas"
7. Best Coast/Wavves – "Got Something for You"
8. Coconut Records – "It's Christmas"
9. Summer Camp – "Christmas Wrapping (The Waitresses Cover)"
10. Los Campesinos! – "Kindle a Flame in Her Heart"
11. Dressy Bessy – "Hopped Up on Xmas"
12. Dent May – "Holiday Face"
13. By Divine Right – "Mall Santa"
14. The Zolas – "Snow"
15. Paper Lions – "Jingle Bells"
16. The Mountains & The Trees – "My Favourite Sweater (Happy Holidays)"
17. Ben + Vesper – "Planet Witness"
18. Rachel and Jon Galloway – "Glory"
19. Joshua Stamper – "To Us a Child of Hope Is Born"
20. Halcali – "Strawberry Chips"