Even though I rather like the way Time magazine is presented on iPad — at least the way it was back in June when I purchased an issue — my biggest gripe has always been the pricing. I just feel that $5 an issue is not good business, and it will never make sense to match the pricing of a print edition with the digital one. So because of that, I haven't purchased any issues since that first one (to check out the design), and I'm still hoping that they'll come to their senses and come up with a new pricing structure.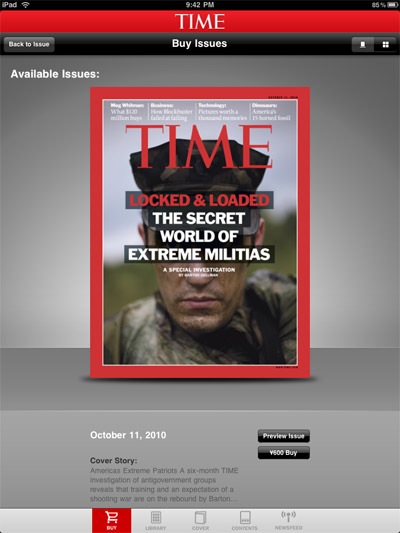 But today I got curious as to what they were charging for issues if you access the app using a Japanese iTunes account, and was shocked to see that individual issues are 600 yen, which at today's rate is about $7.20. Are they serious? The exact same digital product, which is simply downloaded from a site, gets a 30% price hike in a different region?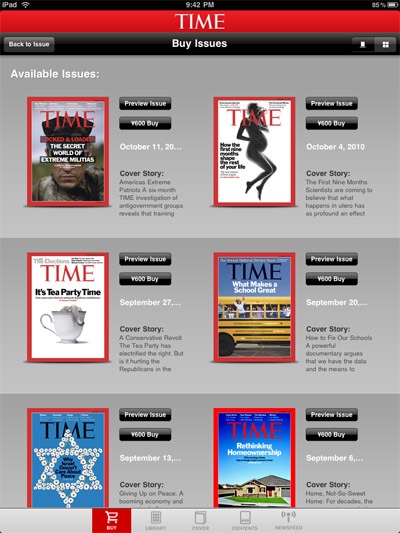 And it gets better. I checked to see what the pricing on other Time, Inc. titles were in Japan, and not only do Fortune and Sports Illustrated go to 600 yen, SI even has an issue priced at 700 yen. Sure, it's a football preview issue, which was probably bigger, but even the one issue of Time I bought (pictured top, a World Cup preview) was a double issue and it was priced normally.
What's wrong with these companies? In comparison, the Bonnier Corporation (Popular Science, Popular Mechanics, etc.) does a bit better. Although the latest issue of Popular Science is priced at 600 yen, all previous issues are priced at 350 yen ($4.20). As another comparison, Wired charges 450 yen ($5.40), which is not as high as the others, but still a price hike compared to the US price ($4).