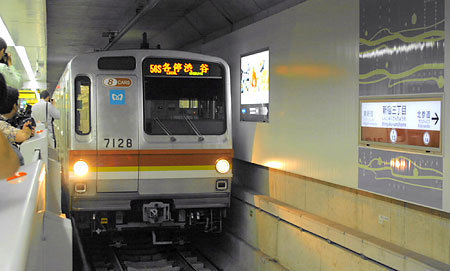 Japan Probe has a nice report on the new subway line that opens this Saturday. I'm actually really excited, because it means I'll be able to get to Shibuya in just 11 minutes, and also way more quickly to Omotesando. A few facts:
The Fukutoshin Line is the 13th Tokyo-area subway line. Construction of the Shibuya-Ikebukuro section, which began in 2001, cost ¥250 billion.

Express trains will go between Shibuya and Ikebukuro in 11 minutes, while local trains will make the journey in about 16 minutes.

The entire Fukutoshin Line runs 20.2 km between Shibuya and Wakoshi in Saitama Prefecture. The section between Ikebukuro and Wakoshi is already operating as part of the Yurakucho subway line.

Starting in 2012, the Fukutoshin Line will be directly connected to Tokyu's Toyoko Line, which runs between Shibuya and Yokohama.

The line will thus not only expand metro underground transportation but also make it easier to connect Saitama and Kanagawa prefectures.

Tokyo Metro expects the Fukutoshin Line to reduce commuter traffic during rush hours, especially on the lines that parallel it, including East Japan Railway Co.'s Yamanote and Saikyo lines.

Tokyo Metro's Web site indicates 17 trains will run hourly, or about one every 3 1/2 minutes, during the morning rush hour.