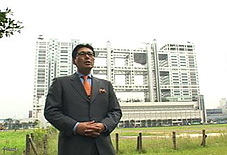 And while I seem to be on the subject of architecture lately, here's news of a screening for Roland Hagenberg and Karl Newbert's documentary sur/FACE – 14 CONTEMPORARY JAPANESE ARCHITECTS at Uplink Factory (May 9 to 15). Here's what REALTOKYO says about it:
Shown for one week is a documentary film that was shot for the exhibition with the same title, held in 2001 at Aoyama's "BMW Square." Ando Tadao, Hasegawa Itsuko, Isozaki Arata and other architects talk about their own work, as well as Japanese and international architecture and aesthetics while sitting in or walking through their own creations. It's no doubt the particular relationship between project initiator Roland Hagenberg (whom you might remember from that nice little "PLANT" paper) and the interviewees that helped create the relaxed atmosphere in which the biggest names in Japanese contemporary architecture explain their philosophies. It would have been nice to see more overall views that show how each object integrates into its environment and interacts with its users/inhabitants. However, this life-sized film leads the viewer directly to the constructions' hearts and their designers' thoughts.
From the images shown on the Uplink Factory site, it seems like they might be showing it with English subtitles, and I've emailed them to get confirmation.