I wanted to pick up a guide for the weekend trip, and ended up getting the Insight Guides' Korea book. I tend to be a visual person, and find the Lonely Planet guides to be utterly dull. The Insight Guides are completely in color, and have quite few pictures on every page. Sure, it makes for a heavier book (because of the glossy pages), but this is the kind of thing that stimulates me more, and will make me want to visit something. It'll also make for good reading on the way over, as well as on the train to work and back over the next 2 days. Another bonus is that the edition I bought was released last week!
And speaking of guides, thanks to the reader who pointed out that the design guides I was talking about the other day are called StyleCity. Here's the cover of the London guide: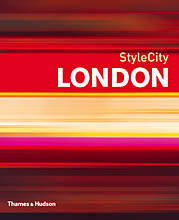 Listening to "Encore Un Terlude" from the album Sacrebleu by Dimitri From Paris.