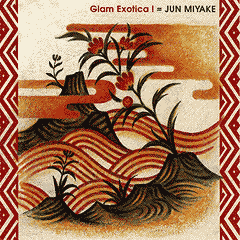 Oh, this sounds like it could be an interesting gig (from REALTOKYO):
His collaboration album with Arto Lindsay, "Innocent Bossa," has been making waves around the globe, leading to Jun Miyake's invitation to the next Berlin Jazz Festival. The program is going to be a selection from the trilogy-like albums Miyake released in recent years, "Glam Exotica," "Mondo Erotica" and "Innocent Bossa." After accepting the invitation, though, Miyake realized that there were only two chances to get the band together to rehearse, and these two precious meetings are now held in form of public rehearsals. Jun Miyake's music is a truly exotic mixture that doesn't fit into categories such as jazz or world music, and in the two spontaneous performances this spirit of experimentation and open-mindedness will surely come across even more thrilling than on CD. It'll be interesting to catch both shows and see how program and performance evolve.
I love Miyake's music, and have his GLAM EXOTICA and MONDO EROTICA albums. Great stuff. The first gig will take place at Aoyama Cay (basement of the spiral building) on October 6 at 8, and the second on October 31 at Super Deluxe (no times indicated). It's shitty for me that the Cay gig is on a weeknight.