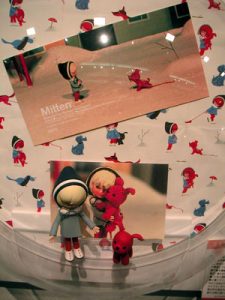 Also at the Spiral Character exhibit, these figures are based on a legendary Russian animated film which is now playing in Tokyo. From REALTOKYO:
Driven by her desire to have a dog, a little girl uses a woolen mitten instead to resemble a puppy… when suddenly the mitten begins to walk! Shown for the first time in Japanese movie theatres is this puppet animation from 1967 by Russian director Roman Kachanov, whose "Cheburashka" is extremely popular in Japan. With animators involved including the famed Norstein and others, "Mitten" enjoys a reputation as a "legendary" or "fantastic" title. A set that also includes "Letter " (1970) and "Mama" (1972), this program of 30 minutes is sure to bring back memories of your childhood and its dreams, and I assure you that there's nothing better than such a charming event to warm you up from the inside in this cold season.
A nice site has also been created for the re-release of the film in Japan.