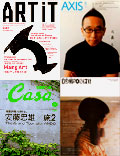 Since there seems to be a demand for it, I've decided to start taking orders for the Japanese magazines I mention on this site (or any Japanese magazine for that matter). If interested, contact me with what you want, and your postal address, and I'll let you know how much it'll cost, and send it as soon as I get a PayPal payment (which you can do by clicking on the PayPal icon in the sidebar). I'll charge the cover price of the magazine, plus the exact shipping (for example, an issue of ART iT sent to North America or Europe is 960 yen), and a 400 yen on top of that (for my trouble, cost of envelope, and whatever I lose in the exchange and PayPal transfers).
Update: I've just realized that PayPal takes a cut of every transfer made to me, so I'm going to have to add 600 yen to the cost of the magazine and shipping to make it work. Also, here's a link to the Japanese post office page with all the info on shipping costs.
Note: The magazine service has been temporarily suspended.