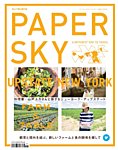 I just picked up the new issue of PAPER SKY (10), although there's still no mention of it on their site. The cover story hits close to home as it covers the city of Toronto (in case you didn't know, I'm Canadian), with a focus on its cosmopolitan nature. Reminds me also that I still haven't been to the PAPER SKY and Planet 3rd produced BOOK246 cafe and bookstore yet. I might try and go tomorrow, and if not then, there's always my 3 weeks of holidays that start in one week's time.
And while on the subject of Toronto, the latest issue of Canadian architecture/design magazine AZURE has a big feature on the new airport.
At Toronto's Lester B. Pearson International Airport, the new Terminal 1 is a building with citylike texture, diversity and power. Designed by a team of architects co-ordinated by Skidmore, Owings & Merrill and Toronto's Adamson Associates, with input from Canadian architect Moshe Safdie, the arced expanse is a point of departure, a frenzied meeting place and a giant art gallery all in one.
For those interested in this latest issue of PAPER SKY, as far as I know (according to their outdated English website), they do have a US edition of the magazine now, so it should be readily available in the near future.