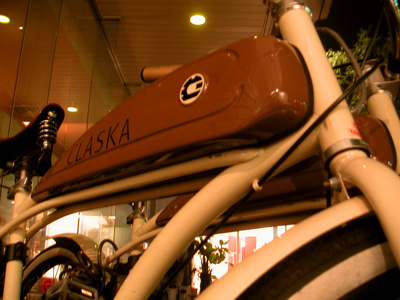 I headed out late in the afternoon with Jesper to Ginza, where we started at the Ginza Graphic Gallery and the Sugiura Kohei exhibition. I can't say that I was overly excited by it, but there were some striking cover designs that showed a very strong sense of graphic continuity. Following this, we quickly stopped at the hpgrp building to see what was going on at the Hanna gallery, and then made our way to the Matsuya Ginza department store for the "Tokyo Night Scape 2050" exhibition. It ends up that it's mostly theoretical (I was mostly expecting visual designs), and I couldn't really appreciate much of it as it was Japanese-only.
The obligatory stop at the Apple Store (especially packed) then lead to Muji Yurakucho, where we had dinner at Meal Muji. This was my first visit since the big re-opening, and I must say that changes were kept to a minimum. You get a larger Meal Muji, and more space on the 3rd floor dedicated to home furnishings, which is what Muji is really pushing this year. Under construction on the first floor is a showcase house, part of the Muji+Infill project.
The plan was then to head to Shinjuku for a bit of shopping, but as we got to Meguro station on the Yamanote, we decided to get off and finally give the Claska Hotel (with the Transit produced Lobby) a visit. After a bit of confusion, we were then on the right track after Jesper's great idea to enter a hotel and ask for directions. The Lobby is definitely very nice (think WALLPAPER magazine), and I quite enjoyed sipping a shochu while resting on the comfortable leather sofas, but it couldn't be at a worse location. It took a good 20-30 minutes to walk from the station. As much as I'd like to go again, I can't see myself making that trek very often.