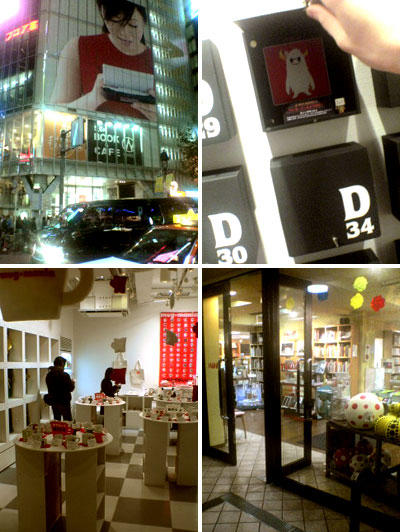 Had a short outing today, late in the afternoon. Started out in Harajuku by checking out the Devilrobots exhibition at Laforet (in the Lapnet Ship gallery space). The main thing to see here is a wall covered with 112 boxes that you open individually to see illustrations and tiny figures. It's quite nice, if you're a fan of this kind of imagery (of which I am). I bought a small pack of stickers, and it came with some Devilrobots wrapping paper. Another present was a pack of Maffy soft marshmallows. Fun stuff.
Next to this was a collection of mugs on display: Mug Mania. It features mugs illustrated by various artists. The book for the event, shaped as a mug, is nice as it gives you some background on the artists (with more examples of their work). As you enter, they give you a page to fill with your name and address, and your favorite mug. Who knows, it might be a contest to win one of them!
I then made my way slowly up Omotesando, swerving in some side streets, to end up at Nadiff. They're presently hosting the works of photographer Nagashima Yurie in a show titled "Not Six." I enjoyed this, pictures Nagashima took of her husband over a few years. While I was there, I picked up a Brockmann Light from the latest series (Volume 02, Wild Animals), and got the bear costume in white.
I also dropped by the Bape Gallery for the Gary Panter show. I wasn't really into this, and then my stop at Spiral for the character exhibition met with an empty hall — it only starts on Wednesday. I finished up with a visit to Colette Meets Comme des Garcons to have a look at the works of D. Tobias Wong. I liked the CD-ROM with the "I Love You" virus from a few years ago.