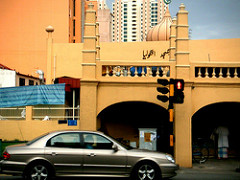 I've started putting up the pictures I took in Singapore on Flickr. The best thing to do is probably to subscribe to my Flickr RSS feed to find out when new ones are posted. Also, you'll notice that I recently added a section in the sidebar that shows the last 5 pics uploaded to my Flickr account. I'll probably end up posting around 50 or so pics.
As for the trip, well, it was a lot of fun, but the return was a bit rough — after an overnight return flight (around 6 hours) that arrived early Tuesday morning, I then had to go teach six classes in the afternoon. I think two days was enough to do and see the things that we were interested in. I mean, speaking as a person who has lived and travelled in Asia for quite a few years now, I can't say that Singapore offers that many exciting sights. The city has two clear highlights when it comes to attracting tourists: food and shopping.
For the food, it was heaven (and cheap). Buffet breakfasts at our hotel, roti prata (and egg prata) in Little India, some dim sum in Chinatown, Malaysian satay and mee rebus ( and mee siam) at the Lau Pa Sat hawker center, some delicious curry at Boat Quay on an outside terrace (it was such a treat to be able to have all our meals outside). I'll even admit to having a whopper at the airport on our way back — what can I say, I hadn't had one in ages.
As for sights, we did enjoy walking around, visiting parts of Little India and Chinatown (although a bit too touristy). We really enjoyed walking in the Botanic Gardens not too far from Orchard Road (nicely illuminated at night), and then hiking at the Bukit Timah Nature Reserve — trekking in the midst of monkeys! The Raffles Hotel is quite nice (not just the lobby, but also the inside courtyard, especially at night, with the outside bar). I went there for a Singapore Sling (it was invented at the Raffles Hotel's Long Bar in 1910), but had to exit the bar as soon as I walked in. Definitely one of the worst atmospheres I've ever felt (music and the crowd). Luckily, you could sit outside on the balcony, which was enjoyable. A bit of a surprise towards the end of the trip was the absolutely stunning Asian Civilisations Museum (Empress Place). We had a few hours to kill before leaving, and since it was raining, we thought the museum would be a good thing to check out. Ridiculously cheap (S$5), it offers a very innovative mix of multi-media displays, in a tastefully arranged setting. I quite enjoyed my time there, and the three hours I had was barely enough time to enjoy most of what was on offer. I probably wasted a good 15-20 minutes alone relaxing on some cushions listening to middle-eastern chants on headphones.
And the shopping? Well, that's not really my thing, especially not the big mall and brand approach to it. The only thing I bought for myself while there were a few Singapore design/architectural magazines I found at Borders: ISH, SPACE, DESIGNER, and D+A. Actually, I wouldn't mind having access to a big Borders-like English bookstore in Tokyo.
All in all, it was a nice way to spend a weekend, and the food was killer. Compared to a city like Hong Kong, it was refreshingly clean and much easier to interact with the environment and people because of the English used everywhere. Zipping around in taxis (with very friendly taxi drivers, representing all the ethnicities of the city, music and all) was very convenient and cheap. It didn't have the chaos and excitement of other Asian cities, but it still made for an interesting stay. Oh, and did I mention how good the food was?