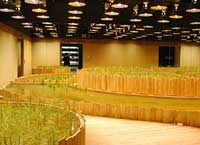 Found via Octopus Dropkick!:
An underground rice and vegetable field has been planted beneath an office building in Tokyo's Otemachi business district. This urban farm – in what used to be the vault of a major bank – is maintained using computer-controlled artificial light and temperature management. It was brought into being by a personnel company as a means of providing agricultural training to young people who are having trouble finding employment and middle-aged people in search of a second career.
Read the rest of the article here.