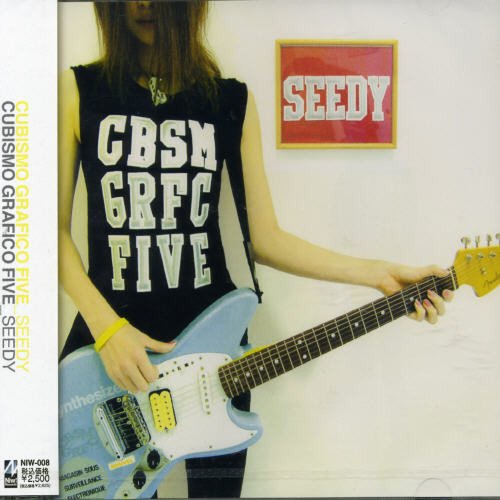 The other day I was invited to do a 45-minute Japanese music spotlight on my friend's college radio show (the same station where I used to have a show). I only had time to play 10 tracks (I had prepared 20 before going), and here's what the playlist looked like:
1. Shugo Tokumaru – "Typewriter" (NIGHT PIECE)
2. Shugo Tokumaru – "Karte" (L.S.T.)
3. Kiiiiiii – "4 Little Joeys (DJ Codomo Remix)"
4. Yukari Fresh – "Interstellar Kiss and Ride" (CICLISMO 2)
5. Higuchi Yasuo dit PICO – "I Love You (It's a Man's Man's Field Ultimate Kaji Mix)"
6. Capsule – "Uchuu Elevator" (S.F. SOUND FURNITURE)
7. Halcali – "Electric Sensei" (BACON)
8. Cubismo Grafico Five – "Sound Bwoys Fire!!!" (SEEDY)
9. Plus-Tech Squeeze Box – "Early Riser" (FAKEVOX)
10. Karia Nomoto – "No Ichigo (Wild Strawberries)" (THE GIRL FROM R.E.A.D.Y.M.A.D.E.)
And now for an update on my personal radio projects:
We will probably be recording some new shows of Radio OK Fred when I get back in Tokyo, so hopefully a new show will be up in early September. Marxy has prepared a special mix — Radio MXUT — for us (as O.Lamm did a few months back) which I believe will be uploaded sometime this week. I was given a rough edit before I left for my holidays, and it's a very fun listen.
I picked up an iTalk adapter for my iPod, so I'm now all set to do some field recordings. Don't expect anything before September though, as I think it's going to take me a good week or so to get over my jet lag (I get back on the 22nd).
The other podcast project is also going ahead. I believe me and Trevor (of Music Related) will be cooking up some shows this fall. The idea is to create a show that will play Japanese music only. We're even talking about recording it live, with me in Tokyo and him in NYC, probably over Skype or iChat.