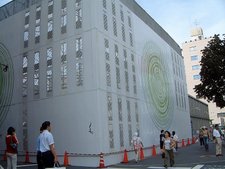 Xbox in Harajuku? Microsoft, face facts, no one in Japan is interested in the Xbox, and I doubt that even something like this could possibly turn things around.
Microsoft is in the midst of constructing a $400,000+ building in Tokyo for its upcoming next-generation hardware. It's currently draped in a huge sheet emblazoned with the circular Xbox 360 logo on the front and side. If you recall, there were similar rumors swirling about a Times Square location being considered for New York, but you can't get any more blatant (or secretive, by hiding what's inside) than a giant logo for your console covering a 3-story office space in Japan. (

Joystiq

)
But you know, I'd love to be proven wrong. Oh, and for the first time in years, I'd actually like to go the Tokyo Game Show (happening next week) for a chance to try out some PS3 and Xbox 360 games.