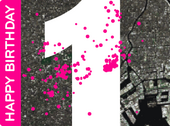 One of my very favorite sites is about to celebrate its 1st year anniversary, and they're marking the occasion with a party at SuperDeluxe!
The Tokyo Art Beat Team invites you to join in for the celebration of tokyoartbeat.com's first anniversary. A celebration for the Japanese and international crowd of art-goers and creatives mixing in Tokyo. A celebration of one year of buzzing excitement across our city, one year of fun and entertainment beyond television, one year of cultural wealth and one year of free choice! Come and meet with the team, the users, artists, venue owners, and special guests. Be among the first to grab TAB-shirts from an exclusive line designed by 5 popular artists and designers, witness the launch of new great features and redesign of the site, and don't miss our special surprises!
Visual and musical delight will be provided through the evening by the DadaKingz and dryfishbutterfly. Soft drinks and food from 500¥, Alcohol from 700¥, available at the venue. (

TAB

)
The celebration will start at 19:30 on October 8. There's a 500 yen entrance fee, which is quite reasonable, especially considering that Tokyo Art Beat is an NPO, and they need all the financial support they can get. And I can tell you right now that you will want to buy these t-shirts!