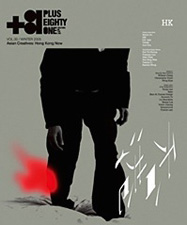 As of tonight, I'm officially on vacation for the next three weeks, and to help celebrate, I picked up the following two magazines on my way back home.
AXIS 118 sports a cover interview with Fumie Shibata, and also marks the 6th year that the magazine devotes an issue to prototypes. The "A Handwritten Letter" corner is written by Tadao Ando.
The latest issue of +81 (Vol. 30), which actually came out last month, is the "Asian Creatives: Hong Kong Now" issue. Certainly a must-buy for any fan of Hong Kong cinema, as it features a piece called "Brains of Wong Kar Wai's Creatives," covering William Chang, Christopher Doyle, and Wing Shya. Also, if you haven't already, you should try to get a hold of the +81 E-CODE free paper, which examines environmental concerns in design (I put a bunch at Cafe Pause, but not sure if there are still any left). Both are bilingual (English/Japanese).