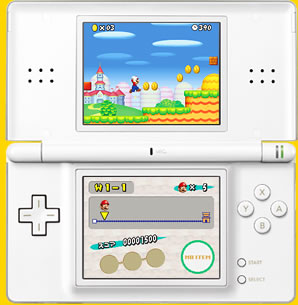 Regarding first day sales for NEW SUPER MARIO BROS. on the Nintendo DS:
NSMB managed to sell through 480,000 units in it's first day, making it the fastest selling DS title ever. To put things in perspective, when the second edition of Brain Training came out in Japan, it sold through 414,556 units…in the first 4 days. (

Go Nintendo

)
I got my copy today, and I have to say, it's truly glorious. I really think they've managed to create the absolute perfect 2D platformer. That being said, I had ordered it on eBay alongside another DS game, PRINCESS PEACH, and 2 Gamecube games, PAPER MARIO: THE THOUSAND-YEAR DOOR and STAR FOX ASSAULT, and I've just played 4 straight hours of PAPER MARIO. I never thought an RPG could be this much fun!