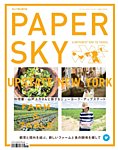 Yes, another one, because I stopped by Junkudo earlier today and picked up a few magazines for the cafe (full list here).
The new issue of PAPER SKY (19) is out. It's a return to Japanese-only — although the editorial is bilingual, for some reason — with the feature "London on the Grass," which covers various football stadiums, and pretty much shows you how to take in the English football experience. There's also a pictorial with Kahimi Karie at Nadiff.
This month's EYESCREAM (2006/12) is "The Connection Issue," which not unlike the recent issue of +81, looks at various creators working together (like Nigo and Pharell for instance).