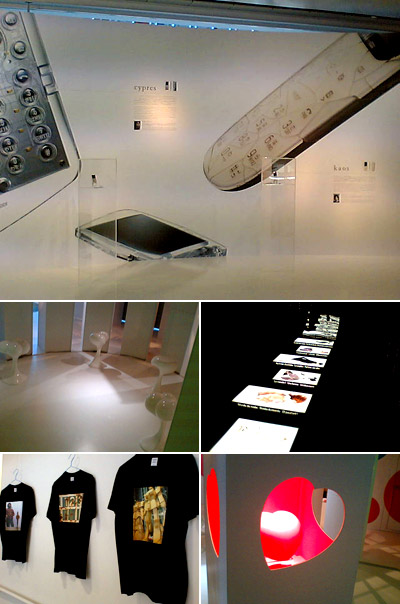 Despite the craziness that was Tokyo Design Week — I think I'm currently suffering from design/exhibition burnout — I found myself in Aoyama yesterday just before lunch time for a meeting, and when that was over, I ended up walking around a bit and checking out a few things (my first thought was to just plop down in a cafe somewhere and relax, but I guess I couldn't help myself).
From Aoyama Crossing, I started heading in the direction of ABC, and stopped at Spiral to see if there was anything to see. As expected, they were between shows (I unfortunately missed what they had on during TDW), but if you're looking for a 2007 calendar, they have some rather nice ones for sale in a stall set up at the entrance. I continued on to ABC, where I picked up the latest issue of AXIS (124), with Alexander Gelman on the cover. There was also a photo exhibition at the store, and you could pick up a free copy of BOOTCAMP MAGAZINE NO. 1 – PHOTOGRAPHER ISSUE, which I did.
I was getting hungry, and as I juggled in my head my cafe options — it was actually a hard decision — I ended up at the A to Z Cafe, one of my current faves, and had one of their lunch plates (which was delicious) as I leafed through the magazines.
I didn't have much time before heading to work, but wanted to return to the KDDI Designing Studio to see the INFOBAR 2 again, so headed down Omotesando. As I was walking, I noticed there was some sort of photo exhibition at Celine, so stepped inside and was treated to an interesting installation — not much to see, but the presentation was nice, with fashion photos illuminated from underneath (as seen in the picture above).
Later, at the KDDI Designing Studio, I got to drool over Naoto Fukusawa's INFOBAR 2 again, and then made my way up to the 3rd floor's "Trilogy" exhibition, which is a showcase by the AU Design Project of three terrific prototypes by Nao Tamura (the one I'd really love to have), Ross McBride, and Bradley Fraser. Some beautiful design porn, and it's nice that everything was written in English as well. I then went to the 4th floor where they were having an "AU Style" exhibition, which is basically a celebration of all the designers/artists they've featured in the AU STYLE pamphlet you receive every month with your bill. It was nice to see some stuff from Koji Kimura (we always have a couple of chairs from him at Cafe Pause — this is the latest one), in the form of the heart and the white stools pictured above. They also had some items for sale, and so I picked up one of Tomohiro Yasui's Kami-Robo Quickit Models (Kami-RoboBirdman), which I'm looking forward to piecing together (it ends up looking like an action figure). On my way back down, I noticed another photo exhibition, this time being presented on t-shirts, which I thought looked great. I'm pretty sure this was the most fun I'd had at the KDDI Design Studio since it opened!