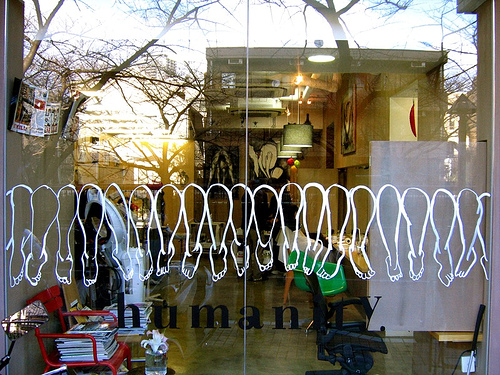 The segment I did for the NHK program TOKYO EYE will air in this week's episode (#016). In it, I cover a few favorite locations in Nakameguro that share the theme of mixed concepts for the "My Private Tokyo" corner. The places visited are Cow Books — it was the first time they ever permitted taping inside — the Kameroku Sakura Shopping Center (includes a bakery, restaurant, cafe, and shop), and the Kisai hair salon and gallery (pictured above). It starts airing this Wednesday, January 24, on NHK World, and then repeats a few times. The following is the broadcast schedule (JST, so adjust for wherever you are):
Wednesday: 16:15-16:45 and 22:15-22:45
Saturday: 12:15-12:45
Sunday: 00:10-00:40 and 19:30-20:00
It also airs this Sunday (January 28) here in Japan on the NHK Digital Educational TV channel, at 11:25.