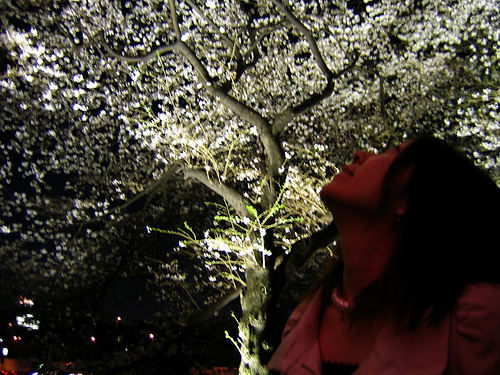 Today was pretty much as perfect a day as you can get. The weather was just amazing (high of 22 I think), and so I took my bike out and went for a ride around the city, hoping to do some prime sakura viewing.
I started by going down to Kanda river — halfway between Ikebukuro and Takadanobaba — and was treated to the most amazing view. As I biked along the river, the path was rather crowded — which was to be expected — but it didn't bother me, as I just took my time, taking in all the pink. I continued on to the Imperial Palace, and then ended up in Ginza, where I checked out the "Wellness Design by Shin Matsunaga" exhibition (Friday is your last chance to catch it). Most of the show is devoted to his product design for the Wellness brand, which is nice, but I was really taken by the posters that were on display in the adjacent cafe, and ended up standing in front of the video that showcased his works for the entire running time of 20 minutes. I really wanted to pick up a book they had for sale that covered his career — it was even bilingual, and going for 3800 yen.
I then went to Hibiya park, thinking that the pink would be in evidence, but it wasn't as impressive as what I'd seen in other spots. When I passed by the Matsumotoro restaurant, I was really tempted to go in and have one of their delicious Hayashi Om-rices, but I had some more biking to do, so took a rain check. I zigzagged a bit around the area, making a stop at Muji Yurakucho (of course), and then started back home, but taking a scenic route that brought me around the Imperial Palace, with plenty more of sakura to take in.
Checking in with Craig, I made my way to Co-Lab in Kudanshita, and dropped in to say hello and chat with a few friends. As I left, I went though the Yasukuni shrine area, taking in again all the cherry blossoms. As soon as I got back home, it was off to the station, as Yuko suggested we both go to Yasukuni. It really was quite lively at night, with the highest concentration of food stalls I'd ever seen — had my favorites: buttered potatoes and okonomiyaki — and then we walked along the palace's surrounding moat, where they had lights pointing to all the trees.
As far as soundtracks for the ride, I used my iPod shuffle, so it was an eclectic assortment — I always use the autofill feature. My favorite thing about using the shuffle is when it manages to come up with a track that perfectly suits what I'm doing or where I am. Highlights from today: Four Tet's "She Moves She" as I was biking along Kanda river, Stereolab's "Good Is Me" just as I approached the Imperial Palace, Nirvana's "Tourette's" as I hit traffic in Ginza, Weezer's "My Name Is Jonas," that started just as I headed back with the sun shining in my face, Momus' "Born to be Adored" just when I finished some uphill, the melody going perfectly with my tired cruising, and COPTER4016882's "Rising Core" when I hit Ikebukuro.