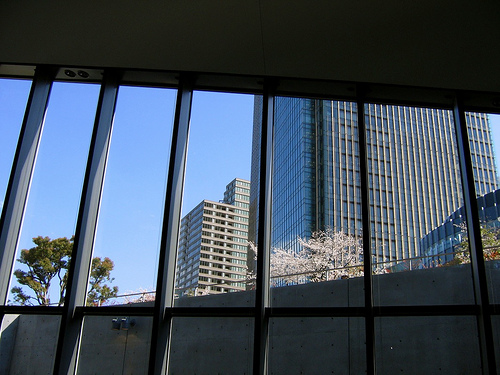 What is TB.Pensar? Find out here.
I think I need to further explain my feelings regarding Tokyo Midtown. From all the posts and pictures I was putting up, as well as this post for Gridskipper, I think a lot of you were getting the impression that I'm in love with the place, which isn't the case. First thing, being a launch, that gets me interested, as I love the "new," and so I was really looking forward to scoping the place out. Then, I can say that of all the big complexes that have seen the light of day in recent years, Tokyo Midtown is offering a lot more for me and my interests — design is obviously quite well represented, what with the 21_21 Design Sight, as well as the Design Hub, and a generous collection of interior design stores. And again, as I've written, I had a good time there, and enjoyed the space. But it doesn't change that these artificial "cities within a city" are never going to surpass the chaotic joys that are the many streets and neighborhoods of Tokyo. It's something else altogether, and I can still find some value in that, in the alternate experience that it offers.
Last week saw the latest edition of PauseTalk, and I think the evolution of what PauseTalk represents and how it is experienced continues. It was probably the most casual gathering yet, but at the same time, I think it provided the kind of meeting point that a lot of us creatives in the city look for. Instead of themes and constant project updates, it looks like the gatherings work best as a collection of casual, if moderated, discussions, with me trying to get people to share what they're working on, and then getting feedback from everyone. Some have already connected with fellow participants in a variety of ways, and that's very satisfying to see. But all this doesn't take away from the group projects, and the next step for the 8mm film project is to set a firm deadline, and then to form a small focused group to lay down the rules and kick start the PDF magazine.
I hope everyone was able to take in as much pink as possible, since this year has been a short sakura season. I was lucky to have had that day when I biked around town, since that's probably the most blossom pink I'd experienced in all my years here. It looks like I'll be taking the train out of the city for a bit of hiking today — and hopefully some final cherry blossom viewing — and that should make for a nice change from all the "Tokyo Walking" of recent weeks.
WARNING: The following paragraph reveals instances of extreme geekiness, and is not to be consumed by a non-gaming audience. After a couple of weeks of non-stop PUZZLE QUEST-addiction, I've found a new gaming obsession: FINAL FANTASY FABLES: CHOCOBO TALES for the DS. I've mentioned in passing that I quite enjoy trading card games (TCGs), and I even try to make it to a regular Wednesday-night league at Shakey's in Takadanobaba — even geekier, I've been trying to get people to start playing a new game, THE SPOILS, and we're finally going to start a mini-league next week I think. CHOCOBO TALES is a mix of an RPG, a collection of mini-games, and more importantly, a virtual TCG, where you follow the storyline and play mini-games that provide you cards that you use to build decks and battle. After just one day with the game I consumed way more playing hours that I'm willing to reveal, and have also played a few card duels online (the game supports wireless internet play). If you have the game and want to duel, mail me your friend code and I'll do the same.