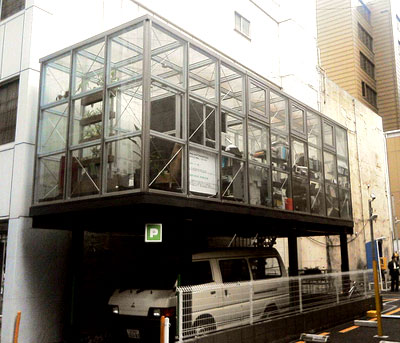 About a month ago I linked to a piece from BusinessWeek looking at micro-homes. As a follow-up, David Cady — that's Mr. Canned Coffee to you and me — sent me the photo you see here, with some details:
If you view the slideshow in the link, one of the pictures (8th frame) is of a small glass structure that looks an awful lot like the one in the (cell phone) photo I've attached below. It is tucked in a back street behind the Yaesu Book Center near Tokyo Station, and appears to be a design-related office. I always marvel at it when I walk by and wish I had a workspace like it. It's such an efficient use of space, built above a parking lot. I bet the rent is a pittance.

The blurb on the slideshow says: "Sensing an opportunity, a factory automation company called SUS launched a new business offering cube-like aluminum frames called "tsubomi" that can be arranged into stand-alone homes or used as attachments to existing abodes. A 27 cu.m. (952 cu. ft.) attachment costs $17,000, and can be assembled in a single day." I'm pretty sure the photo shows one of these "tsubomi."
Yeah, sign me up for a Tsubomi office right away! I also made mention of the Tsubomi in my "On Design" column last year.