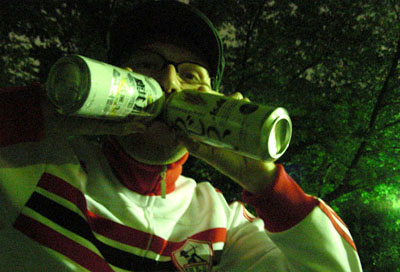 And so I'm off, leaving TYO-town for the next three weeks in a trip that will first take me to Boston for a week (my wife is doing some research at Harvard), two weeks in my hometown of Moncton, New Brunswick, and then a short two days in NYC before getting back at the end of July.
I'll actually still be contributing to Game|Life on a daily basis, so it's not really a holiday for me, but it'll be nice to go back home for a bit — first time in three years! I will continue to pop up here every now and again, but expect to see a definite slowdown over the next three weeks.
The photo is of me enjoying a couple of beers at Minami-Ikebukuro park, taken a week ago by my friend Julie. Nothing like a good beer out in the park!