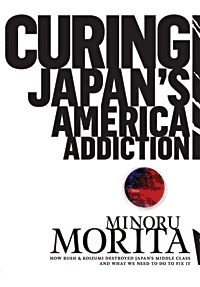 I'm not quite sure how I missed this — let's blame it on me being out of the country for the month — but Chin Music Press has a new release, in the form of Minoru Morita's Curing Japan's America Addiction.
Mr. Morita argues that President Bush and former Prime MInister Junichiro Koizumi have all but destroyed Japan's once-burgeoning middle class. He says Japan needs to step back from the US and reevaluate this relationship, which has become more like an addiction than a friendship. Mr. Morita—a rare political analyst who spends more time in the provinces than the capital—tells us what the Japanese people really think about the last eight years of military buildup and market fundamentalism. In a nutshell, they are as fed up with the course of things as we are. Read this book to find out how to put the US-Japan relationship on more stable ground.
This is the first book from CMP to be released as a paperback, and is available now from its website for $15.