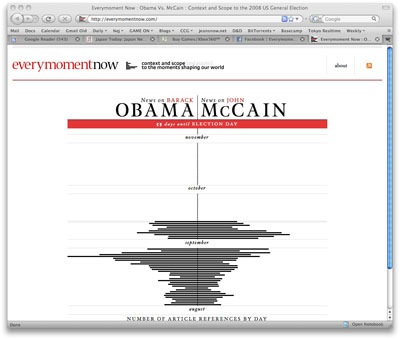 All those late nights at Denny's have paid off: Chin Music Press' Craig Mod has launched Everymoment Now.
Everymoment Now is looking to provide "context and scope to the moments shaping our world."

If stories 'above the fold' are important and those 'below the fold' secondary, then Everymoment Now is looking 'behind the fold'; that is laterally, through time. Moments connected with an event both above and below the fold are brought next to each other to gain insight into the now.

People, places and events in the context of media are like stocks — they peak and bottom out over time. They have a media history. There are two insights to be culled from this:

Being able to see these spikes (variance) in news coverage over time will illuminate potentially hidden patterns, stories or correlations.

Providing a simple, clean and intuitive interface to this data will allow quick access to and assessment of these patterns and stories.

Everymoment Now aims to illuminate the news through this historical context.