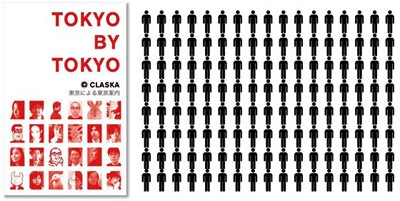 I posted about it over at PechaKucha Daily last week — where you can see a few images from a PKN presentation — but I certainly need to mention here as well Claska's new bilingual (English/Japanese) pocket cityguide, Tokyo by Tokyo. The idea was to invite 70 creatives — our good friend Marxy is even in the mix — who each contributed their favorite Tokyo spots. Each entry even tells you which other entries are nearby, and there are also coordinates for use on Google Maps.
The price is definitely right (1,200 yen) and it can be found in stores around the city — Claska sells it online through its website, but the interface is Japanese-only.
Update: It's also available through Amazon Japan.