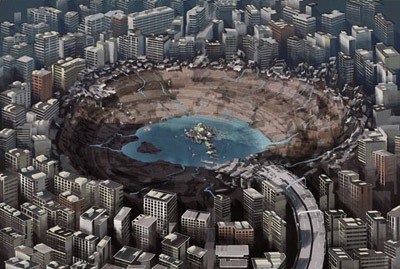 Longtime readers may remember that I used to write a regular column on anime for a site called TokyoQ — along with a design column — and even after the demise of that site, I still tried to check in on new series every season, following the ones I found interesting. Over the past few years I've drifted away from regular anime watching — the last series I watched in its entirety and thoroughly enjoyed was Bokurano, thank to a heads-up from Paul.
This past weekend I watched Mamoru Oshii's The Sky Crawlers, which I can't say enough good things about, and it got me wanting to sample a new show or two. I found this terrific post that takes a look at this spring's new shows — all 30 of them — but have to say that after going through the list, only two shows piqued my interest.
Guin Saga: I don't usually go for fantasy series, but one of the last series I thoroughly enjoyed was Seirei no Moribito, based on a series of best-selling novels and which aired on Japan's national broadcaster NHK. Enter Guin Saga, again based on a series of best-selling novels — 124 volumes since its start in 1970 — and also airing on NHK. That's enough for me to at least give it a try.
Higashi no Eden: The latest from Production I.G, it's even directed by Ghost in the Shell: Stand Alone Complex and Seirei no Moribito's Kenji Kamiyama, and features music by The Sky Crawlers' Kenji Kawai — I left the series' website open just to listen to the theme song in a loop for a while. It's a mystery series — terrorist missiles hit Japan, no injuries, and no one knows why — which I tend to like.
I'll update the post after I've seen a few episodes of each.