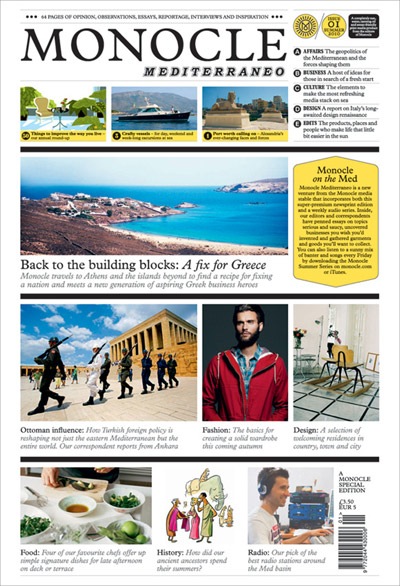 I finally received my issue of the Monocle Mediterraneo summer newspaper today, but it wasn't easy. I ordered it in early August, and after a month going by with still no paper in my mailbox (they promise delivery in two weeks) I finally decided to get in touch on Monday. To their credit, they immediately got back to me, and said that they would send me another copy using registered mail, and it has arrived today (although I suspect it may just be the original issue that was mailed out, which would mean it took 5 weeks for delivery).
The reason I bring this up is because from the feedback I've gotten through Twitter after I started wondering "out loud" where my issue was, I got quite a few responses from others having similar problems, so my example is far from being an isolated case. What's to blame? Is it the UK mail service? It is rather disappointing to receive a copy of something that celebrates summer in September, a frustration compounded by the fact that a few weeks ago I stopped by the Monocle Shop in Aoyama and saw it sold for 500 yen — ordering it online costs 7 pounds, which is almost double. Quite surprising considering that the Japan cover price for regular issues of Monocle is 2310 yen (almost $30), which itself is ridiculous.
But despite these complaints, it really is a beautiful thing. The paper's smell may have turned into a joke, but its pages really do have a great, almost nostalgic odor. I love the format and the size, and would really like to see more publications/magazines use it — and it sounds like we can already expect Monocle to repeat the experiment during the winter holidays.