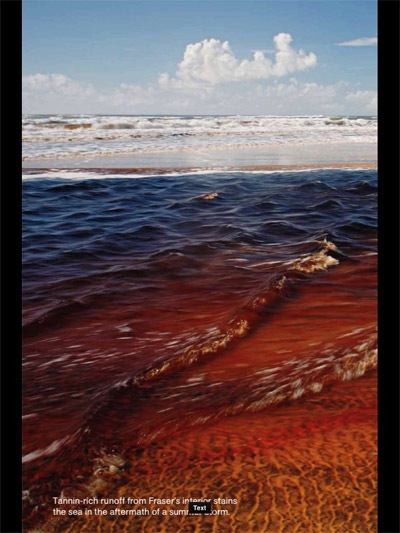 The other day I notice that National Geographic is now available as an app for the iPad, so as I do for pretty much every new major magazine title that comes out for the device, I download it. As is common practice, the app itself is free with in-app purchases of issues, and it comes with a free sample issue. Oh, but what's this, it's not a real iPad edition of the magazine, it's just the Zinio version disguised as one.
For those how don't know Zinio, it's actually a decent service that provides digital versions of a wide selection of magazine titles (most big titles you would expect to see on newsstands) in what amounts to a PDF. It started out as a PC thing — displaying the magazines inside your browser — and is now available for the iPad as well (and iPhone too).
A recent development is that some Zinio editions have now been adding some extra "digital" features. Not all titles do this, but National Geographic is one of them, and it usually means extra slideshows, videos, and more links within the magazines, as well as an option to read text on its own page (instead of pinching and zooming the "PDF" page). The iPad version goes one better by making sure that all text that appears on a page is readable, with a link to read the rest of the text that couldn't fit on the page.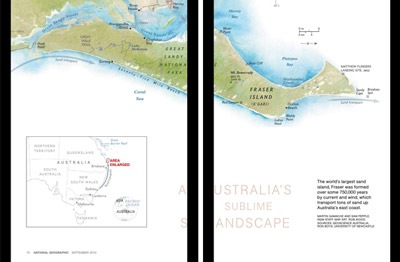 But come on, surely National Geographic can do better. Never mind that it's already silly to have a separate app for a Zinio title (you usually just buy and read titles within the Zinio app), but what we're getting is just not of the quality that you'd expect from that magazine. One of the main reasons you read National Geographic is of course for the visuals (the amazing photography and detailed illustrations and maps), and what you get with the Zinio edition is ridiculously low-res — it's barely acceptable when you read it in landscape mode, and in portrait mode it's just plain bad. And as the example above show, reading in portrait mode means that you get odd cuts between pages.
The one thing is has going for it is that it's cheap — although single issues are around $5, a "subscription" of 12 issues is only $15 or so. But of all the magazines that deserve and could benefit from a Wired/Popular Science-like iPad edition, National Geographic is surely one of them.