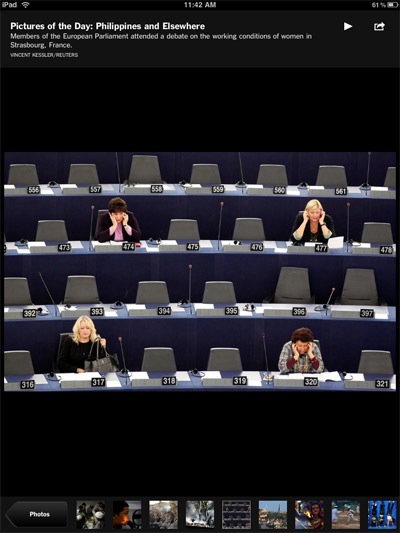 I may have had some complaints about the new NYT app for iPad, but one thing I do love is the new photo section, which apes the video section of the previous app. It's similar to what you get on the excellent Guardian Eyewitness app, but here you get a ton of new great photos on a daily basis — the Guardian app only adds one photo daily. It's a joy to flip through the photo selections — sometimes part of a "Pictures of the Day" collection, sometimes themed for an article — and you can go full screen with them if you view in landscape mode (I prefer keeping it in portrait because I like to read the captions).
Sometimes, a photo really does tell the whole story, like the example above. The caption reads: "Members of the European Parliament attended a debate on the working conditions of women in Strasbourg, France."
And the video section from the old app is back, with no changes, and that's fine by me. My favorite recurring segments are A.O. Scott's weekly "Critics' Picks," in which he reviews a classic film, and the occasional "Screen Test" segment, in which an actor talks directly to the camera about various topics, in this case (above) the lovely Margareth Made who talks about taking on the role of Sophia Lauren in a recent biopic.
I will say that the app still crashes on me at least once every time I use it, and more often then not it's when I'm in the photo section.