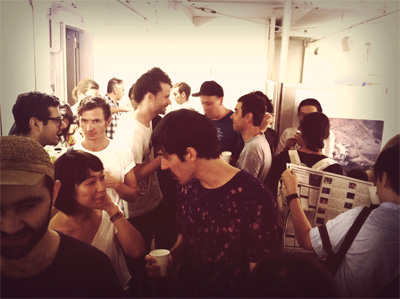 Just over a week ago I attended the launch party for thesecond issue of TOO MUCH magazine, held at the United Bamboo store (in the building's event space) in Daikanyama. TOO MUCH is of course the follow-up to OK FRED magazine, and is still helmed by the editorial duo of Yoshi Tsujimura and Audrey Fondecave (my fellow Radio OK Fred podcasters). The party doubled as an exhibition based on a feature written by another good friend, Ian Lynam, of which you can see more here. You can buy a 2-issue subscription to TOO MUCH (it's published twice-annually) here.
After the reception, we walked down towards Nakameguro to get some drinks at Just Another Space, which is a rather funky spot — and hey, there's ping-pong table there too.
Also, if you're curious as to the effect I'm putting on these photos (which I also did for the haircut post), I'm using a series of actions in Photoshop that replicate the filters found in Instagram — in each case, I've applied "Hefe," followed by "Brannan." You can download them here(and thank you Nick Chester for the tip on this).