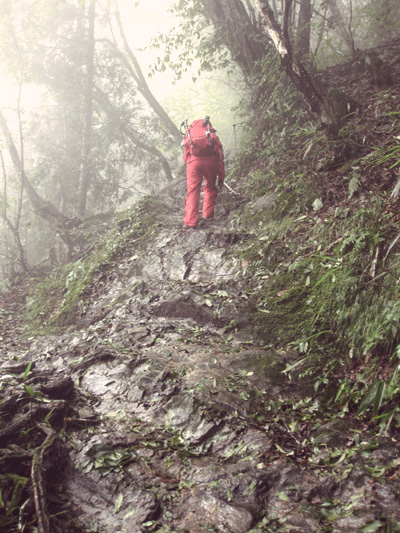 Remember that weekend last week with the typhoon warning in effect? We kept waiting for it to come, and finally on Sunday decided to head up to the Okutama area for a bit of hiking. Lo and behold, the typhoon weather made itself felt just as we arrived, and so it was a very, very wet day indeed (below, me, dressed to deal with the elements).
Despite the wetness (which was on and off, but mostly on) we took the cable car up to Mount Mitake, and then hiked over to the top of Mount Otake, where we managed to cook lunch (see below). The big adventure comes next weekend though, as we will be heading to the Northern Alps (Mount Yari) for a 3-day trek. Cautiously looking forward to it — just worried about one of my knees, which occasionally gives me trouble, but I bought a brace for it. We'll be staying in mountain huts, which should be interesting — first time for me.
A week of opposites then, from the tech-heavy Tokyo Game Show to the alpine heights of the north!