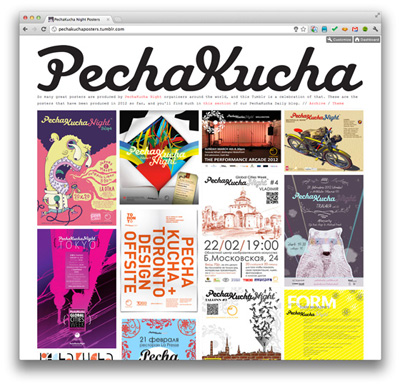 I know it's been slow going these days here, and oh how I wish I could share with you some of the cool things we're developing on the PechaKucha front, but that'll have to wait for a bit. One fun little thing I did the other day was to put together a Tumblr blog to just share PechaKucha Night posters, as I thought it would be great to see them all together up on a wall like that. It only includes posters from 2012 (so for the past 2 and half months), and I'll keep updating it with new ones I receive.
I know I haven't put up the last PauseTalk participants list yet, but I'll do that soon, and in the meantime, you can have a look at photos by Michael, up on Facebook.
I haven't had time for much else, but I do hope to record a new episode of the Codex tonight, and over on Warren Ellis' blog, you'll find a few thoughts I shared with him on the topic of magazines.
Despite this gray and rainy weekend, it really does feel like warmer spring weather is just around the corner, which should mean my bike life will become active again — can't wait.