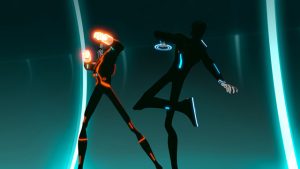 There's a fantastic Tron series out there, don't miss out.
It's called Tron: Uprising, and it really is worth checking out. Set in a timeframe that falls between the original Tron and the 2010 sequel, this animated series tells the story of a new "renegade" who teams up with Tron to fight the good fight. It airs on the Disney XD channel, and five episodes have aired so far (out of a season order of 18).
The storylines so far have kept me interested, but the real reason I tune in is for the show's striking look. It uses CG, but in a way that looks slightly more cel-shaded than what we tend to think of as CG, with a very stylized design that, although quite different, reminds me of the old Aeon Flux series — I think it's that the characters are abnormally thin with long legs.
Many were disappointed with Tron: Legacy — for me, although the story was ho-hum, the visuals were enough to keep me glued to the screen — and it does feel like Uprising is really the Tron that we all wanted. They also attracted some great voice talent, with Bruce Boxleitner reprising his role of Tron, and Elijah Wood voicing Beck, the series' main character.
Just try not to get derezzed.