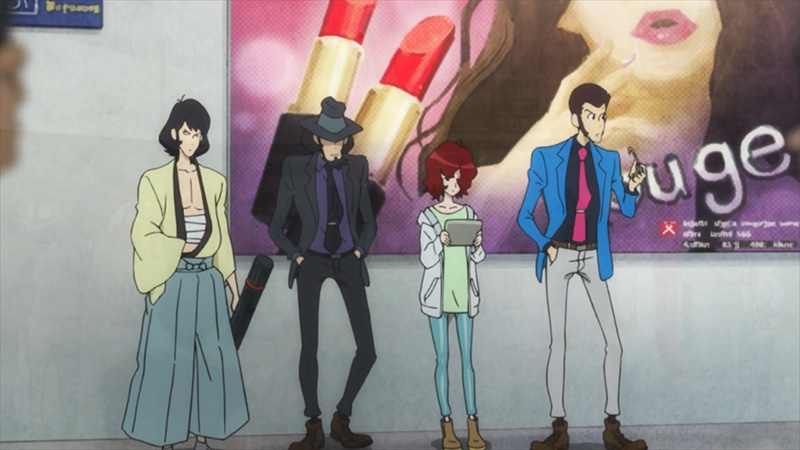 After a few disappointing anime seasons, I found myself enjoying most of what I wanted to watch during this past winter season — I really liked Junji Ito Collection, thought Kokkoku was pretty good, as well as Devilman Crybaby (although I haven't finished watching it), and I watched the first episode of B: The Beginning and will watch more. When I started looking into the new spring season — which I always do on AniChart — I found quite a few things I was interested in watching. Below are those series, and I've already started watching all of them, so I'll indicate what I think so far, after 1-2 episodes.
FLCL Progressive
I'm a huge fan of the original FLCL (as is most everyone who's watched it), and when a sequel series was announced, my first reaction was that I didn't think it was a good idea. I still tried to keep hope alive that it would be good — and the fact that the original creators are back was a good sign — but I'm just shocked at how much I disliked the first episode. I'm going to watch the second episode when it's out, just to make sure, but wow, I was bored to tears with what I saw in episode 1. I even rewatched the original series last year, and still loved it, so it's not a case of me not being into this series/world anymore.
The Legend of the Galactic Heroes: Die Neue These
I didn't really know what to expect with this series, but figured I'd check it out because I liked the idea of galactic battles as a setting (I don't feel like we get a lot of series like that anymore), and that it's produced by Production I.G. I've watched the first 2 episodes, and I'm really digging it so far. It really is all about the space battles and the tactics used, and the first episode ends on a great cliffhanger. I'm pleasantly surprised by this.
Lupin III: Part V
I love Lupin, and have watched a lot of his series and movies, and so was pretty happy when I saw they were launching a new series this season. I've watched the first 2 episodes, and so far it's really fun. It's an interestingly modern setup (people are following Lupin — and getting in his way — through social media), and yet it feels like classic Lupin. I'm pretty sure I'll be enjoying the rest of this.
Megalo Box
Despite the name, this is actually an Ashita no Joe series set in the future, in celebration of the series' 50th anniversary. I've never read or watched anything that has to do with Ashita no Joe, but the description sounded interesting — a world where cybernetically-enhanced boxing matches take place — and I liked the first episode. The world looks very Akira-esque (if not of that quality), and this is probably the way to get me to watch a sports-themed series (I don't tend to like watching sports-related anime).
Fist of the Blue Sky
This is a prequel series to First of the North Star. I know the basic setup of First of the North Star — and I can't wait to play the game by the developers of the Yakuza series — but I've never read or watched any. I thought the first episode was pretty neat — its CG cel-shaded, like Knights of Sidonia and Ajin, and produced by that same studio — and it's funny to see these ridiculously muscled-up characters interacting with crazy kung-fu-inspired moves. But by the second episode I was already growing bored with the story — and lack of action — and so I'm not especially excited to continue watching it. I might give it another episode.