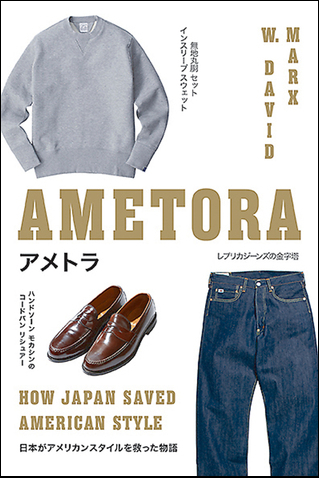 I'll start off by saying that I'm completely embarrassed by the fact that it took until now for me to finally read my buddy David Marx's Ametora: How Japan Saved American Style. I'm not quite sure why, I think it's just one of those things that you keep meaning to do, and it slips through the cracks, and then you get to a point where you're like, hey, I didn't read this yet, what's up with that?
With that out of the way, I just blasted through it over a couple of days (thank god for vacation time) as I couldn't put it down. Just like my experience reading Matt Alt's Pure Invention, I was just completely drawn into each chapter, which focus on various aspects of David's thesis on how Japan absorbed American fashion styles, and ended up guiding it. Not only is it fascinating to see how all of this develops in the postwar era, but also how it links up to a lot of the companies and brands anyone who has spent time in Japan will be very familiar with.
One aspect I also loved is that the influential role magazines played in the development and evolution of these styles means that he spends a lot of space writing about how these magazines came to be and how their editorial direction evolved and grew — properly framing the "catalog" style of reportage any Japanese magazine addict is very familiar with. To be honest, my wish now is for David to do a book that focuses on the world of Japanese magazine publishing.
If you have any interest in contemporary Japanese culture — and of course fashion (but I don't even think that's necessary, as I'm not a particularly fashion-oriented guy) — then I can't recommend this enough. Whatever next he's working on can't come out soon enough — and you should of course pick up the first issue of NJP magazine (if it's still available).
The funniest thing though is that reading this has actually made me want to pay a bit more attention to what I wear (beyond my typical t-shirt and black jeans uniform).