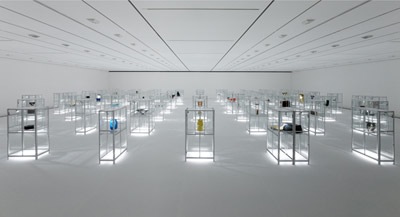 I first previewed it a while back, but here's a better look at the exhibition design by Nendo created for last month's "Kanazawa World Craft Triennial 2010 Pre-event" at the 21st Century Museum of Contemporary Art, Kanazawa. Photos are by the always amazing Daici Ano, pretty much "the" name in architectural photography.
The design for a exhibition of 62 craft objects by 50 artisans at the 21st Century Museum of Contemporary Art, Kanazawa, in western Japan. The objects' materials range widely, including glass, wood, ceramics, metal and cloth. A variety of techniques were used in their creation, and they range widely in size. For the exhibition design, then, we chose the opposite strategy. Small mass-produced home-use greenhouses give a sense of order to the space and provide visitors with a flat perspective from which to view the exhibition, allowing the rich variety of the objects to stand out.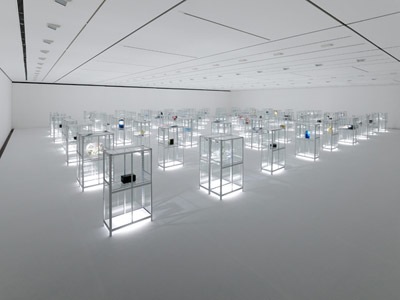 The greenhouses are made completely of glass, and each comes with its own shelving and pre-installed wiring for lighting. They are inexpensive, perfect for small budgets, and are easily assembled with only a screwdriver. It took only one day to assemble all 62 of the boxes. They can be broken down and stored after the exhibition. This not only eliminates nearly all waste from the exhibition fixtures, but also allows for possible reuse during the the Kanazawa World Craft Triennale 2010.