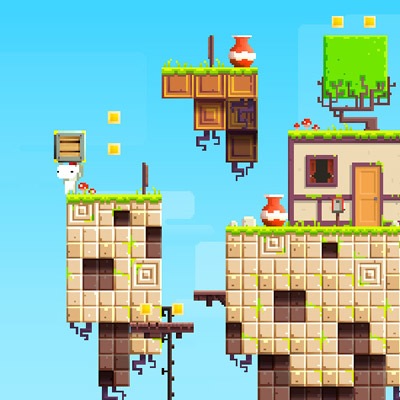 Ever since I first saw a trailer for Fez at a PauseTalk a couple of years ago — when Polytron's Jason DeGroot (6955) was still living in Tokyo — I've been anxiously waiting to get my hands on a controller to bring that little Gomez to life myself. Well, I finally got my chance this past Friday. Jason is in town for a few weeks, carrying with him a demo version of the game on his laptop. So yes, despite my "current situation," Jason was kind enough to come on over to my place, plug up that laptop to my TV, and I was then holding an Xbox 360 controller, playing through the demo level.
I won't go into details, but let me just say that what I played was an absolute blast. If the idea of constantly rotating a world in order to maneuver through a level sounds like a chore, quite the opposite, it becomes quite natural, and you'll quickly find yourself jumping, rotating, and then jumping again in no time. The 8-bit inspired visuals are indeed a treat, and Jason's music fits the game's atmosphere perfectly. Fez's release sometime next year cannot come soon enough.
In a related note, Polytron's Phil Fish will be talking about his upcoming iPhone game (in collaboration with Infinite Ammo), Power Pill, at PechaKucha Night in Montreal (Vol. 13) next week — I posted more details on PechaKucha Daily earlier today.