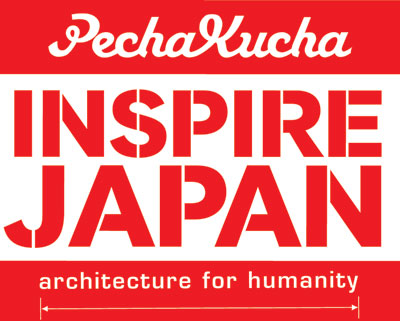 If you've been to the front page of this site sometime this week (I have to assume that many of you reading this in your feed reader), then more than likely you've noticed the giant banner I have there now. It's for the big Global PechaKucha Day – Inspire Japan event I've been working on over the past few weeks, set to happen this Saturday (April 16). I alluded to it in a recent post, but if you don't know about it, it's a big charity event we've put together, bringing together the PechaKucha community — we're 404 cities strong, as of this writing — for a day/night of events all over the world, with the goal of raising funds for reconstruction efforts in Japan. As with last year for Haiti, we're teaming up with Architecture for Humanity.
The core of the event is on Saturday, with a whole bunch of cities holding PKNs, and a lot of them will be streaming live as well — just go to the Inspire Japan site on the day of the event, and whatever is currently streaming live should be up at the top of the site. But our Inspire Japan efforts will also span all of April and May, and we're inviting organizers of all PKNs during this period to collect donations — because this all came together so suddenly, many cities were not able to re-schedule already planned events, and some just found it difficult to organize something on the 16th.
Here in Tokyo, instead of our regular home of SuperDeluxe, the event will be held at the Roppongi Hills Tokyo City View (52nd floor), with doors opening at 17:00, and presentations starting at 18:00 (it should run until around 21:30 or so). Entry will be a minimum donation of 1000 yen — you're of course welcome to leave more. To access the event, you'll need to go to the 3rd floor to get a free ticket to get to the top, and we'll have signs there to point you to the event space (where you'll pay the entry fee).
This will also be the first time I present in quite a while — I only presented once at a PechaKucha Night, 3-4 years ago at a special Tokyo Design Week edition with my friend Jesper (it was about the Swedish Style event we had organized at Cafe Pause). This time, I'll be teaming with Ian, who is responsible for all of the Inspire Japan graphics you've been seeing. The presentation will pretty much be about design efforts to raise money for Japan aid, based on that post I started a few days after the quake, as well as the follow-up I did in last month's edition of my "On Design" column for The Japan Times. For his part of the presentation, Ian will cover the projects he worked on to help raise awareness and collect donations.
The event should be amazing — I mean, you can't really beat that view — and you'll also be contributing to reconstruction efforts, so I urge you all to come and support us. Also, if you'd like to help spread the word, feel free to get and use Inspire Japan banners and ads that Ian created, as well as a very cool (and workable) QR code that SET Japan designed for us.