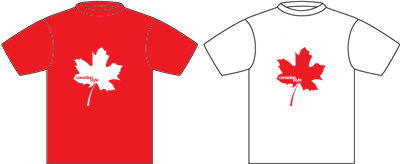 I'm now ready to start selling the official Canadian Style t-shirts online (they'll only be available at Cafe Pause when the event starts, February 1). As the image shows, there are 2 versions, red and white, and they each come in 4 sizes: Kid's L, S, M, and L. These are Anvil t-shirts, so sizes tend to be a bit big (they're like the Mamma Gun t-shirts). I'm wearing an M, which fits me perfectly (like a an M from Graniph).
The t-shirts are selling for 2100 yen, and here are the shipping/handling costs:
North America — 700 yen
Europe — 700 yen
Japan — 500 yen
If you want 2, please add 200 yen to the shipping costs. For more, I might have to send them in separate packages.
Payment is accepted through PayPal in Japanese funds (PayPal takes care of converting, so don't worry about it), and you can do so by clicking on the PayPal icon that you'll find at the bottom of the sidebar on the right (if you have a problem with the direct link, make the payment to "jean@jeansnow.net"). In Japan, payment by furikomi is fine also -— email me for account info.
In case you're wondering what all of this means in terms of US dollars, at today's exchange rate (06/01/25), a tee would be around $18, and 700 yen is around $6.
Update: As of this writing (February 12, last day of the event), there are only 6 tees left, in the following sizes: 2 red Smalls, 3 white Smalls, and 1 white Medium.