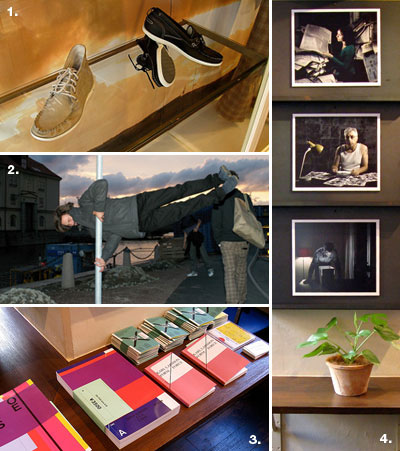 Following up on last month's "Creative GBG in Tokyo" event at Cafe Pause, I hand the mic over to Jesper to talk about a contest to win some of the items that were on display:
"Creative GBG" at Cafe Pause is long over, but it is still present in our hearts and minds. Remembering such things as Rokin Footwear (1), Elvine clothes (2), Methams Pool books (3) and Daniel Grizelj photographs (4). That's why we want to give you the chance to get a hold of some of the nice items that were exhibited. Answer the 3 simple questions below by emailing me. For Tokyo citizens only.
1. What, according to The New York Times Stephan Metcalf, is turning Sweden's second city, Gothenburg into one of Europe's coolest towns?
2. Daniel Mänd is the founder and head designer at Elvine. What's the name of his grand-mother who influenced him to start the brand?
3. Name one of the two people behind Methams Pool?
The answers can be found by following the links on the event homepage or by downloading the catalogue.
Prizes include Elvine unisex caps + Elvine men's and female clothes, photos from Daniel Grizelj and books by Methams Pool — the winner's can pick up their prizes at Cafe Pause (the next PauseTalk, happening January 7, would be a good time).
PS. We don't like contests, but couldn't think of any other fair or funnier way to hand out the stuff.