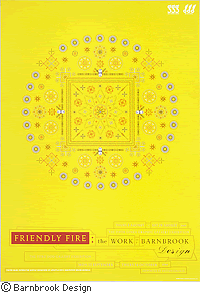 I've just realized that I missed July's exhibition at the Ginza Graphic Gallery, which pisses me off as it was something I really wanted to see (the annual ADC show). Well, nothing much I can do about it, except make sure to go early to the next one, which starts August 5.
In August 2004 Ginza Graphic Gallery will hold an exhibition entitled Friendly Fire – the work of Barnbrook Design. Jonathan Barnbrook is one of the most influential graphic designer in Great Britain today. His activities during the past 14 years have invariably generated a great deal of discussion and debate, both favorable and unfavorable. The present exhibition represents the first large-scale showing of his work. Beginning with his collaboration with Damien Hirst, it includes everything from his anti-advertising activities to commercial work such as the CI project he created for Roppongi Hills. Experimental projects that have never been publicly seen before will also be on view, along with representative work from his early years. The exhibition will afford an invaluable opportunity that takes up even his most recent works addressing social problems and political issues, works that are as yet unknown in Japan.
The show runs August 5-28. Here's a link to the Barnbrook Design website.