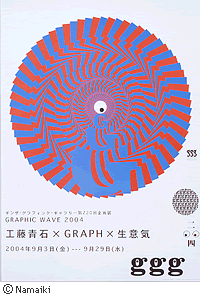 I'm taking a breather at the Apple Store in Ginza (the new iMac looks even better up close), coming from this month's exhibition at the Ginza Graphic Gallery: Graphic Wave 2004, featuring the works of Kudo Aoshi, GRAPH, and Namaiki.
Autumn brings the annual Graphic Wave exhibition to the Ginza Graphic Gallery, this year under the title "Graphic Wave 2004: Aoshi Kudo x GRAPH x Namaiki."

Aoshi Kudo designs from a unique perspective, treating products, packaging and space all as media for communication. Issay Kitagawa, the leader of GRAPH, creates total visual communication through graphic design, branding, printing, and intellectual property management, among other activities. Namaiki (David Duval-Smith and Michael Frank) are the happy-go-lucky adventurers of the design world, spiritedly leaping the boundaries between genres such as design, advertising, TV commercials, products, and architecture.

The keyword for the exhibition is "individuality." The first floor features new works, while representative works to date will be shown on the basement floor. As always, this exhibition focuses on three notable creative talents. This year too we can look forward to the mysterious chemical reaction generated through their encounter. Graphic Wave 9, containing representative works by each of these three creators, will be published in conjunction with the exhibition.
The most interesting part of the show for me is the Namaiki area, which sort of looks like a workspace, with posters and flyers messily displayed here and there. The GRAPHIC WAVE 9 book, mentioned in the blurb above, is also quite nice, and is in the same small-book format of the regular GGG series. The exhibition ends September 29.